Guests
About the Club
Why Outboards?
Featured Article
Join the Club!
Everybody
FREE Classifieds
FAQ
Ask-A-Member
Upcoming Events
Local Chapters
Photo Gallery
Recommended Reading
Links
Meet Pictures
Constantine 2013
Members Only
The Inner Sanctum
Can't get in?
AOMCI Members Tech Forum Request Form
---
Our domain name aomci.org was donated by Alison Kiellar in honor of Kenneth Kiellar.
---
Dedicated to the Preservation and Restoration of Antique Outboards
---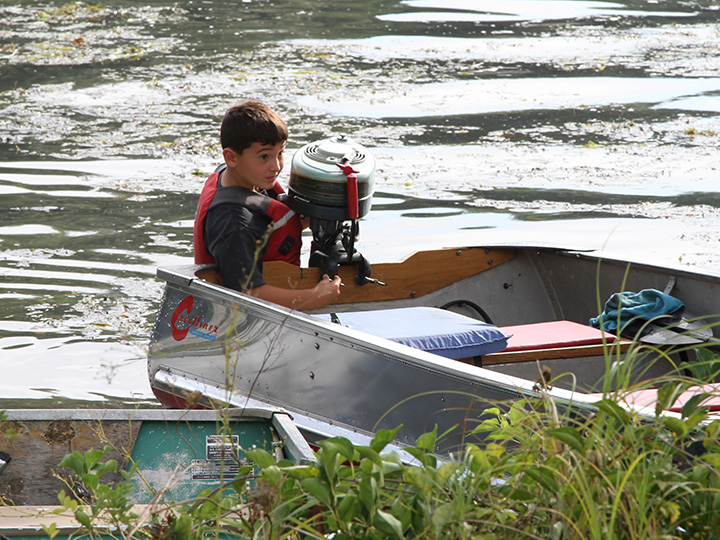 makes it easier than ever to join! What are you waiting for?
Why Collect Outboards?
Historical preservation, the future, for the kids of AOMCI , and it's FUN! See what one of our younger members has to say about this family oriented hobby. Here's a sample article from "The Antique Outboarder" - the club's very own publication.
"Ask-A-Member" Q&A Board
We're very proud of this board, and the many members who have come together to develop this site to further the interest and enjoyment of old outboard motors. If you have any old outboard questions, please check us out! [Click Here]
Members Benefits
We have a number of "Members Only" projects planned that for those of you who are not members, unfortunately will not be able to access. There is a simple and obvious solution to this dilemma; join the club! In addition to garnering all the good stuff available to members on the site, the Club has much more to offer. Check out the About the Club and Benefits of Membership pages on the menu here and take the time to join, you won't regret it.
Add to your Outboard knowledge
Peter Hunn's books tells you everything you want to know on how to get started.
makes it easier than ever to join today!
What are you waiting for?

Librarians glossary newsletter subscriptions about site demo advisory board contact us help quick test log in | log in via athens â â â curricular topicsâ â â â â â organ systemsâ â â â â â pharmacotherapy 8eâ â â â â â goodman & gilman's animationsâ â â â â â harrison's onlineâ â â â â â archive of fda patient safety newsâ â â â â â virtual casesâ â â â â â goodman & gilman's grand roundsâ â â â â â interactive guide to physical examinationâ â â â â â curricular topicsâ â â â â â organ systemsâ â â â â â naplex reviewâ â â â â â top ccc drugs reviewâ â â â â â top cardinal drugs challengeâ â â â â â drug monographsâ â â â â â herbs and supplementsâ â â â â â textbook updatesâ â â â â â evidence-based pharmacy practiceâ â â select select all accesspharmacy images & multimedia drug monographs textbook updates topics in evidence-based pharmacy practice pharmacotherapy: a pathophysiologic approach goodman & gilman's the pharmacological basis of therapeutics harrison's online pharmacotherapy casebook herbs and supplements disable autosuggest advanced search pharmacotherapy: a pathophysiologic approach, 8e section 5. no prescription generic viagra Renal disorders > focal segmental glomerulosclerosis sections: etiology and epidemiology, pathophysiology, clinical presentation. cheap viagra no prescription Excerpt: "focal segmental glomerulosclerosis (fsgs) is a clinicopathologic condition that can be idiopathic (primary) or secondary to a variety of causes. Fsgs accounts for less than 15% of the cases of idiopathic nephrotic syndrome in children and approximately 15% to 20% in adults; however, it may account for 36% to 80% of the cases in african americans. no prescription generic viagra 42 the incidence of fsgs has been rapidly increasing, so that it now is the most common glomerular disease that ultimately leads to esrd. Conditions such as sickle cell disease, cyanotic congenital heart disease, and morbid obesity can induce hemodynamic stress on an initially normal nephron population and result in fsgs. generic viagra online no prescription Severe glomerular injury can also be seen in patients with nephropathy associated with heroin abuse, human immunodeficiency virus (hiv) infection, and genetic mutations involving the podocin and wt1 genes. buy generic soft tab viagra 42 a recent case series identified the association of fsgs and proteinuria in bodybuilders after long-term anabolic steroid abuse. 43 the primary and secondary sclerotic lesions may be morphologically similar, but they represent diseases with different courses and responses to... no prescription generic viagra ". Careers for media contact login mychart patient portal online bill pay employee login home hospitals & locations services & specialties patients & visitors health resources find a doctor news & events about us health resources learn research a disease or condition get in-depth information on a specific condition step-by-step guides learn about a test manage self-care instructions prepare for a surgery or procedure questions to ask your doctor learn what to do after being discharged explore nutrition, vitamins & special diet drug leaflets alternative medicine emergencies injuries poisons franciscan alliance health resources â • encyclopedia home • diseases a-z • read spanish version images male urinary sys... Read more • reflux nephropathy • nephrotic syndrome • protein - urine • chronic kidney disease • end-stage kidney disease... viagra for sale More features • printer-friendly version â focal segmental glomerulosclerosis definition focal segmental glomerulosclerosis is scar tissue that forms in parts of the kidney called glomeruli. no prescription generic viagra The glomeruli serve as filters, helping rid the body of unnecessary or harmful substances. no prescription generic viagra Each kidney has thousands of glomeruli. One glomeruli is called a glomerulus. generic prescription viagra "focal" means that some of the glomeruli become scarred, while others remain normal. generic viagra online overnight "segmental" means that only part of an individual glomerulus is damaged. Alternative names segmental glomerulosclerosis; focal sclerosis with hyalinosis causes the cause of focal segmental glomerulosclerosis is usually unknown. The condition affects both children and adults. Men and boys are affected slightly more often than women and girls, and it also occurs more often in african americans. overnight generic viagra Focal segmental glomerulosclerosis causes about 20 - 25% of all cases of nephrotic syndrome. Known causes include: heroin use hiv inherited genetic problems obesity reflux nephropathy (a condition in which urine flows backward from the bladder to the kidney) sickle cell disease symptoms foamy urine (from excess protein in the urine) poor appetite swelling, called generalized edema, from fluids held in the body weight gain exams and tests the health care provider will perform a physical examination. cheap viagra overnight This may detect tissue swelling and high blood pressure. Signs of kidney (renal) failure and excess fluid may develop as the condition gets worse. cheap viagra overnight delivery Tests may include: kidney biopsy kidney function tests (blood and urine) urinalysis urine microscopy urine protein treatment some patients will receive high doses of corticosteroids or a drug called cyclosporine to suppress their immune system. The goal of treatment is to control the symptoms of nephrotic syndrome and prevent chronic kidney failure. See also: chronic kidney failure nephrotic syndrome in general, treatments may include: antibiotics to control infections anti-inflammatory medicines to reduce the immune response dialysis fluid restriction kidney transplant low-fat diet low- or moderate-protein diet (1 gram of protein per kilogram of body weight per day) medicines to treat high blood pressure, high blood cholesterol, and high triglyceride levels salt-reduced diet vitamin d supplements see also: kidney disease - diet outlook (prognosis) more than half of those with focal or segmental glomer. Questions? Concerns? Please email the AOMCI Webmaster at webmaster@aomci.org

An International organization:
The members of the Antique Outboard Motor Club, Inc. salute the flags of their fellow members.
---
"It's Hydro Time!"
We'll catch you later, Kenny.
Our domain name aomci.org was donated by Alison Kiellar in honor of Kenneth Kiellar.