The never-ending journey continues....'57 Johnson Golden Javelin / '59 Gale Sovereign mashup. "Identical engines", kinda-sorta.
This began with 2 carcasses. The Gale was in "6" condition, the Johnson was a "2" with a fully frozen powerhead & lots of broken parts. There was enough "there" to get the Gale running well, and enough "pretty stuff" to dress it up as a Golden Javelin. It pulled water skiers this summer, so let's call everything a success! for all practical purposes, I have a fully restored "Gale Golden Javelin"!
I'm now turning my attention to salvageable leftover pieces & parts, and right now I'm focused on the Johnson's lower. I drained it and what came out was more goo than oil, but no water....so that's a good sign. But I can't really determine if the gearset is the same / interchangeable with the gears in my working engine, so I don't know if there's a point in keeping these gears. The gear part numbers are different, according to the different parts manuals I have, but the way OMC used different part numbers across the different OMC platforms, that might not mean anything.
I guess my first & foremost question is: Are '57 Johnson gears different than '59 Gale gears? Better? Stronger? Or are they all the same?
The johnson does have a threaded propshaft & metal threaded propnut which strikes me as a better design than the Gale's that I'm using that has the plastic spinner & cotterpin style.
And then there's this on the Johnson. Bad, right?
More importantly, can it be straightened?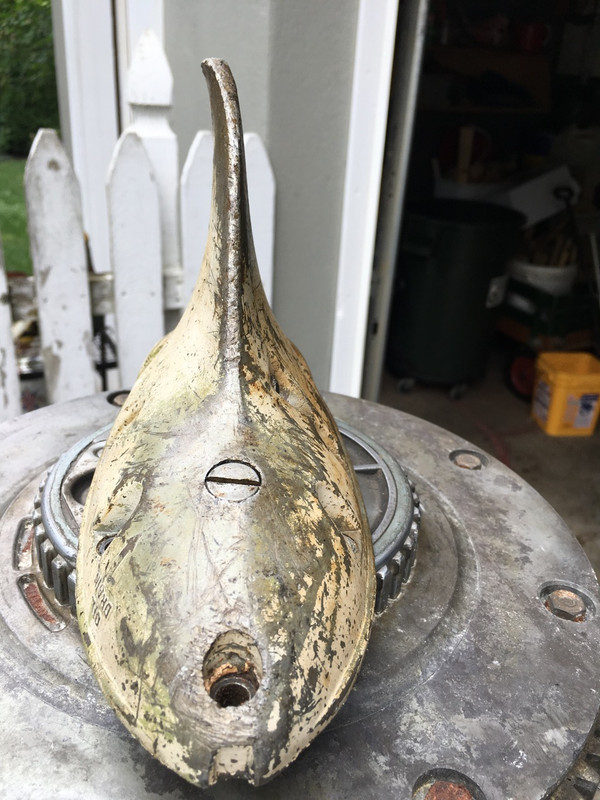 I could:
a.) fix up this lower completely & have a spare, complete lower (bent skeg notwithstanding)
b.) provided the gears are compatible, keep the gearset & pieces as spares for my existing lower, and just keep the housing as a spare as well; toss the skeg.
Or if anyone has another idea, I'm all ears.
Right now, the Johnson lower is all apart, pieces & parts spread out over my bench as I wonder what to do.