57 Johnson 35 hp – Tachometer?
This topic contains 12 replies, has 7 voices, and was last updated by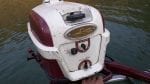 John Link 1 month, 3 weeks ago.
Viewing 13 posts - 1 through 13 (of 13 total)
garry-in-tampa

Lifetime Member

Replies: 3072

Topics: 30

Actually it doesn't – it also does not use the battery except for starting so it will go a while with intermittent use. Hand cranking turns the motor over twice. The electric starter will double that with a click of the switch. A well tuned motor will start almost instantly. If the boat and motor are kept in the water, be sure to tilt the motor to lessen electrolyses damage to the lower unit. If you get caught with a low battery that can't turn the motor over – this draws massage amounts of current, overheating the starter. LET THE STARTER COOL. Then pull the starter cord out to engage the compression relief – this reduces starter effort 25%. Some use a shore powered trickle charger. If you go with this, Disconnect the battery from the motor AND BOAT, to avoid electrolysis. I recently heard someone was making a boat cover with a solar panel in it. The cost would buy a couple spare batteries – but who knows ? ? ?


Viewing 13 posts - 1 through 13 (of 13 total)
You must be logged in to reply to this topic.